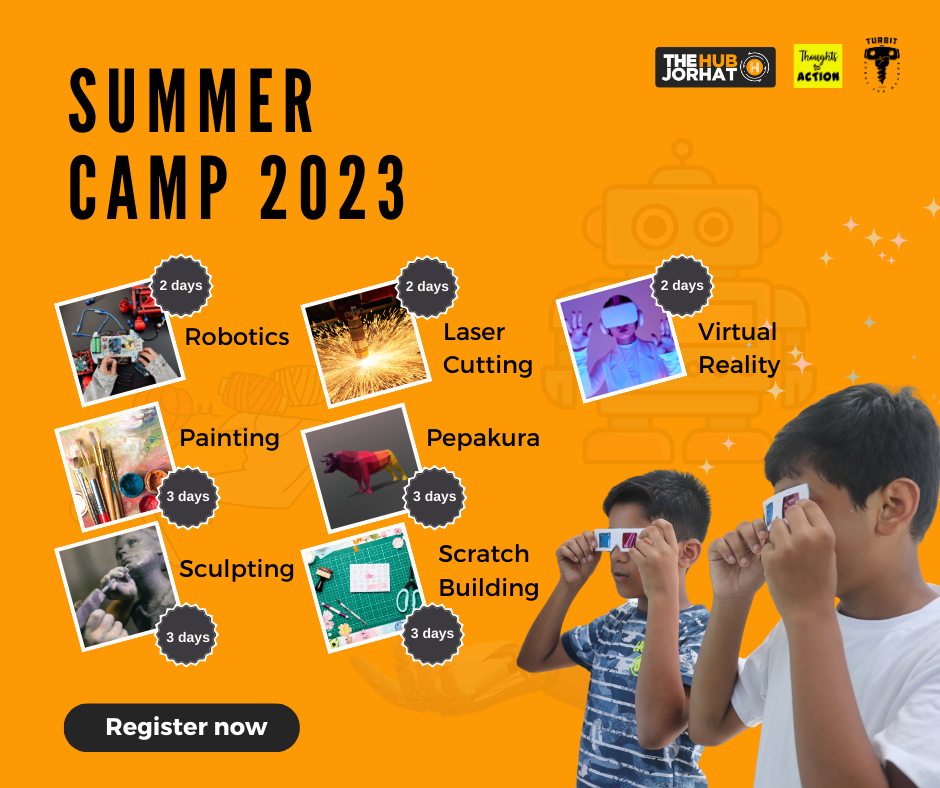 Introduction:
Summer is here, and so is the opportunity to embark on an extraordinary journey of creativity, learning, and fun! The Makerspace at The HUB Jorhat and Makerspace patrner Turbit is thrilled to announce its much-anticipated Summer Camp 2023 in collaboration with Thoughts to Action. Designed for students across Jorhat, this camp promises to be an immersive and engaging experience, offering a range of activities tailored to different age groups. Get ready to unleash your creativity and join us for an unforgettable summer adventure!
Dates and Age Groups:
The Summer Camp 2023 has already begun from July 1, 2023, in collaboration with government schools. However, don't worry if you missed the initial sessions because there's still time to join in the excitement! The camp is categorized into two age groups:
Group A: 6-10 years old
Group B: 11-19 years old
Activities:
Our Summer Camp 2023 is brimming with exciting activities that cater to a wide range of interests. We believe in providing a holistic learning experience, nurturing both artistic and technical skills. Here are some of the activities participants will get to enjoy:
Laser Cutting: Explore the world of precision cutting and engraving using our state-of-the-art laser cutting machines. From creating intricate designs to building 3D models, this activity will unleash your imagination.
Sculpting: Mold, shape, and bring your ideas to life through sculpting. Learn various techniques and work with different materials to create unique sculptures that showcase your artistic prowess.
Painting: Dive into the world of colors, strokes, and expressions. Our painting sessions will allow you to experiment with different mediums and techniques, helping you develop your own artistic style.
Virtual Reality (VR): Immerse yourself in virtual worlds and push the boundaries of reality. Experience VR gaming, exploration, and simulations that transport you to new dimensions.
And much more! Our camp curriculum is carefully designed to provide a diverse range of experiences, ensuring that every participant finds something they are passionate about.
Why Join?
The Summer Camp 2023 at The HUB Jorhat is an incredible opportunity for young minds to grow, learn, and discover their passions. Here's why you shouldn't miss out:
Hands-on Learning: Participants will engage in practical, hands-on activities, fostering critical thinking, problem-solving, and creativity.
Expert Guidance: Our experienced mentors will provide guidance, support, and inspiration throughout the camp, helping participants unleash their full potential.
State-of-the-Art Facilities: The Makerspace at The HUB Jorhat is equipped with cutting-edge tools and technology, offering a conducive environment for exploration and innovation.
Collaboration and Friendships: Connect with like-minded individuals, collaborate on exciting projects, and build lasting friendships during the camp.
Registration and Contact Information:
To secure your spot at Summer Camp 2023, Register by clicking the link to complete the registration process – https://forms.gle/7P1xYwmL2E7X6k8Q9
Limited seats are available, so make sure to register at the earliest.
For any queries or additional information, feel free to reach out to our friendly team at +91 6001972656, +91 9957342791.
Conclusion: The Makerspace at The HUB Jorhat invites students across Jorhat to join us for an unforgettable Summer Camp 2023. With a diverse range of activities like laser cutting, sculpting, painting, virtual reality, and more, this camp promises to be an enriching experience for participants of all ages. Don't miss the chance to explore your creative potential, learn new skills, and make lifelong memories. Register now and embark on a remarkable journey of discovery and innovation at The HUB Jorhat Summer Camp 2023!